FG series bottle blowing machine is a completely new generation of linear blowing machine, distinguished by its high speed, low power and low compressed air consumption, featured by the excellent structure design, small space occupation, less noise and high stability, meanwhile conforms to national beverage sanitary standards. This machine symbolizes the highest level of national linear blowing machines. It is the ideal bottle making equipment for medium and large enterprises.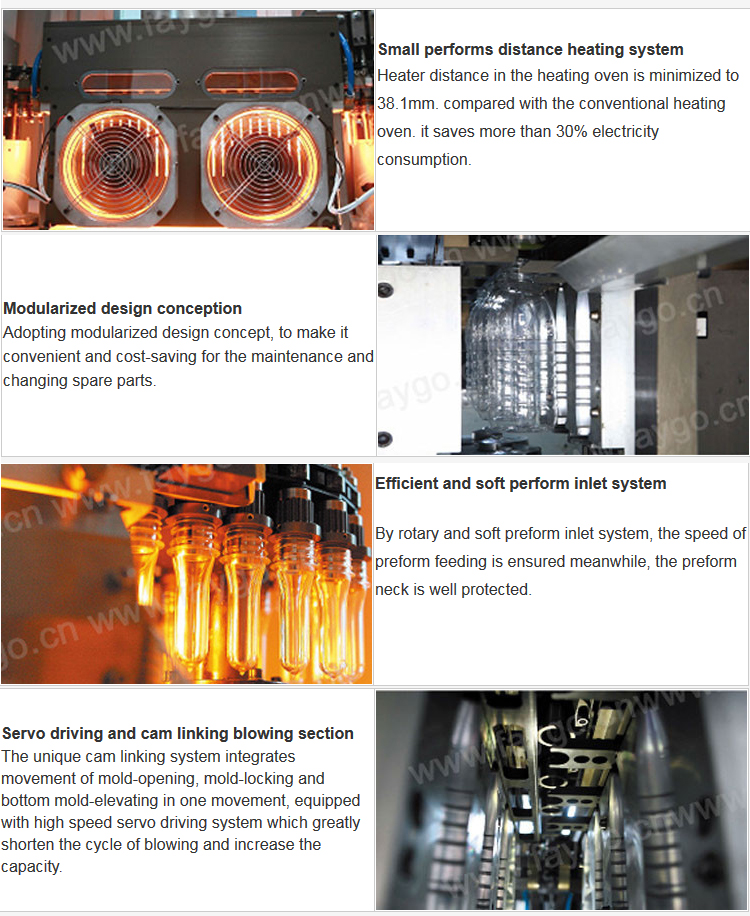 Technical Features:

1. Servo driving and cam linking movement blowing section:
The unique cam linking system integrates mold-opening, mold-locking and bottom mold-evevating in one movement, equipped with high speed servo motor, which greatly shortens the blowing cycle and accelerates the spped.
2. Minimize distance of heating heads,maximize the heating efficiency.
Heater distance in the heating oven is minimized to 38.1mm, compared with the conventional heating oven it can save more than 30% consumption.Equipped with the air cycling system and redundant heating discharge system it ensures constant temperature in the heating zone.
3. Efficient and soft perform inlet system,ensure the spped and preform protction.
By rotary and soft preform loading system, the speed of preform feeding is ensured, meanwhile, the preform neck is well protected.
4. Modularized design conception, convenient for maintenance and changing changeovers
The machine adopts modularized design concept to make it convenient and cost-saving for the maintenance and changing changeovers.