FG6 Pet bottle blowing machine
1.FG 6 PET Bottle Blowing Machine Description:
FG6 PET bottle blowing machine fills the gaps in the domestic high-speed linear blowing machine. Currently, domestic single-mold speed of linear blowing machine still stay 1200-1500BPH, while international max single mold speed has reached 1800BPH. High-speed linear blowing machines rely on imports. In view of this situation, Faygo Union Machinery developed China first high speed linear blowing machine: FG6 The single mold speed can reach 1800 BPH.
2.FG Series PET Bottle Blowing Machine Advantages:
2.1 Increasing output(doubled) Rotary perform uploading, soft and continuous, preform continuous running, instead of step by step, movement more soft.
2.2 Reduce Bad Bottle Rate. Only equipped with two heating box, each heating head distance minimized to 38.1mm, which can reduce 30% electric than the traditional one, around 130000kwh electric power, so one year based on 8 hours per day, can save 20000USD money for you only on heating power;
2.3 With Switherland brand electric ammeter to help you check every single bottle cost.

2.4 The unique cam linking system to integrate mold-opening, mold-locking and bottom mold elevating in one movement, it is controlled by servo driving system, which greatly shorten the blowing cycle and increase the speed.

2.5 Less dead zone=less air compressor, our blowing machine no need LP air compressor& air cylinder to control the movement, as bottom mold elevate, mold close and mold lock is integrated in one cam, the cam is driven by servo motor.

Same speed blow machine we save 1-2m3/min=save 20-30kw=save 8000-10000USD per year for you.
2.6 Reduce bad bottle rate, other machine below 0.3%, ours below 0.1%. As our molds adopt modularized design to make it convenient changing, if you have more than 2 sets bottle sizes, mold changing only 25 minutes. Also with Magnalium6061 material photos are below:

FG4-6 Optional items:
1) Exploded bottles ejection unit
During the blowing process, if the bottle burst, bad bottles can be automatically removed. This prevents the bad bottles from entering the filling machine.
2) HP air recovery system
After the bottle blowing, high-pressure air can be recycled and used again for the pre-blowing and machine physical movement.
3) Oven and preform temperature detection system
Detection system detects temperature of oven and the temperature of performs. When the preform temperature does not reach the set blowing temperature, blowing workstation will alarm, not blown.
Technical Parameter:
Type

FG4

FG6

FG8

Mark

Specifications of bottle

Mould number(piece)

4

6

8




maxi volume (mL)

2000

2000

2000




maxi height (mm)

328

328

328




maxi diameter (mm)

105

105

105




Square bottle for max diagonal length (mm)

115

115

115




preform Specifications

Suitable inner bottle neck (mm)

20-25

20-25

20-25




preform max length (mm)

150

150

150




Capacity (bottles / hour) at 17 g 500mL

7200

9600

12000




Electricity

Install power (kw)

51

74

97




Heating oven total power (kw)

46

69

92




Heating oven actual power consumption (kw)

26

40

50




Voltage / frequency (V / Hz)

380v,50hz

380v,50hz

380v,50hz




Allowed voltage fluctuation

±10%

±10%

±10%




HP Air

Pressure(bar)

30

30

30




Capacity(m³/min)

4

5.5

7




Cooling Water

Mold water

pressure(bar)

4-6

4-6

4-6

Water chiller

5HP

Suitable temperature range (℃)

6-13

6-13

6-13

Flow (L / min)

45

45

45

Oven water

pressure(bar)

4-6

4-6

4-6

Water chiller

5HP

Suitable temperature range (℃)

6-13

6-13

6-13

Flow (L / min)

22

22

22

Machine Specification

host machine dimension (m) length × width × height

3.3*1*2.3

4.3*1*2.3

4.8*1*2.3




Weight (Kg)

3200

4000

4500



Note: the parameter above is based on the 17 grams of 500mL PET bottles. If the bottle conditions change, the corresponding parameter will change also. With the development and innovation of technology, the data above may be changed or improved, so it is for reference only. For precise and detailed data, please consult our technical department.
engineer in customer factory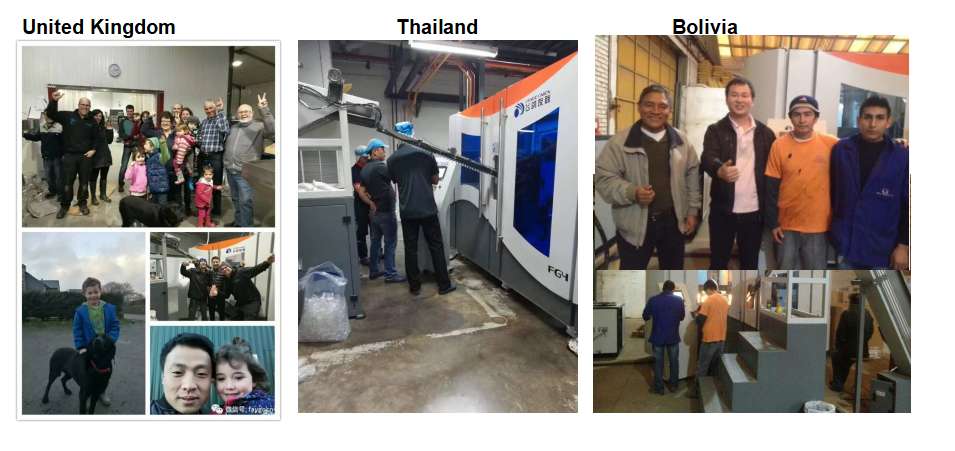 High Quality Automatic PLastic PET Bottle Blowing Making Machine Price With CE Approved
Our Company