PET Hot Filling Machine 
Tea Drink Filling Production Line1. Model:RCGF Series2. Production capacity:3000-28000b/h(500ml PET bottle)3. Filling medium: juice, tea drink, etc.4. Conveyor method:air conveyor5. Neck-hanging operating: German Krones technology6. Touch screen:Taiwan7. Transducer:America Emerson8. Main ele

Tea Drink Filling Production Line
1. Model:RCGF Series
2. Production capacity:3000-28000b/h(500ml PET bottle)
3. Filling medium: juice, tea drink, etc.
4. Conveyor method:air conveyor
5. Neck-hanging operating: German Krones technology
6. Touch screen:Taiwan
7. Transducer:America Emerson
8. Main electrical appliance:German Siemens
9. PLC:Mitsubishi
10. Proximity switch:Korea AUTONICS
11. Optical fiber:Korea AUTONICS
12. Speed reduce:Hangzhou JiePai
13. motor:Shanghai
14. pneumatic element:Taiwan AIRTAC
15. 12M air-conveyor system,6M belt conveyor system,one set washing pump,one set filling pump
| | | | | | |
| --- | --- | --- | --- | --- | --- |
| Model | Washing Heads | Filling Heads | Capping heads | Production capacity (b/h) | Main motor power (kw) |
| RCGF18-18-6 | 18 | 18 | 6 | 5000 | 3.5 |
| RCGF24-24-8 | 24 | 24 | 8 | 8000 | 4.5 |
| RCGF32-32-10 | 32 | 32 | 10 | 12000 | 6 |
| RCGF40-40-10 | 40 | 40 | 10 | 15000 | 6.5 |
| RCGF50-50-12 | 50 | 50 | 12 | 18000 | 8 |
| RCGF60-60-15 | 60 | 60 | 15 | 21000 | 12 |
| RCGF72-72-16 | 72 | 72 | 16 | 28000 | 15 |
The main principle:
This drink filling machinery is based on the electric motor as the main drive, motor through the worm gear reducer drag the triangle belt rotation, led losers bottles, bottles of red,filling, capping rotation system in order to achieve from a bottle into the -- - Bottles of red - filling - capping - a bottle of the entire process of movement.
1. Transmission system: the local wind from the bottle into the drive, a bottle from the external drive electric transmission line bottle, the bottle lost parts of the tailgate to be based on the user and the replacement of bottles of different sizes.
2. Washing system: the entire bottle of red rotation system, promote a new type of stainless steel bottle Health folder along the upper and lower rail road, the bottle itself caught folder bottles turned 180 degrees in order to achieve the upright into the bottle -washing inverted - a bottle upright, Red bottles with clean water flushing system in order to ensure clean bottle. Also in accordance with the requirements of local users on the realization of disinfectant, the second clean water rinse to ensure the improvement of product quality.
3. Filling system: the main components including feed tanks, feed back to the tank, fill valve, the agency increased, and so on. Filling valve is for external, open the valve with ease, the temperature for the filling.
4. Electrical system: mainly imports electrical components to configure the Frequency Control, PLC control system and so on.
The Technical Parameter of the Juice & Tea Beverage Filling Machine.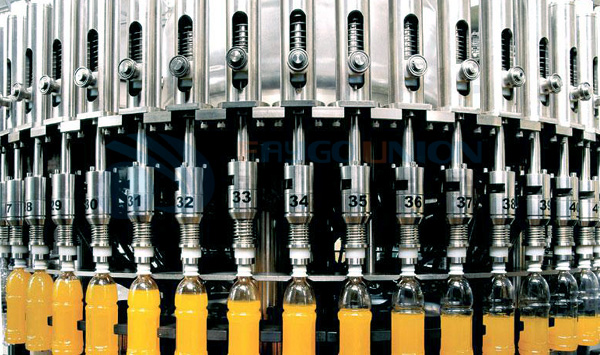 Filling Valves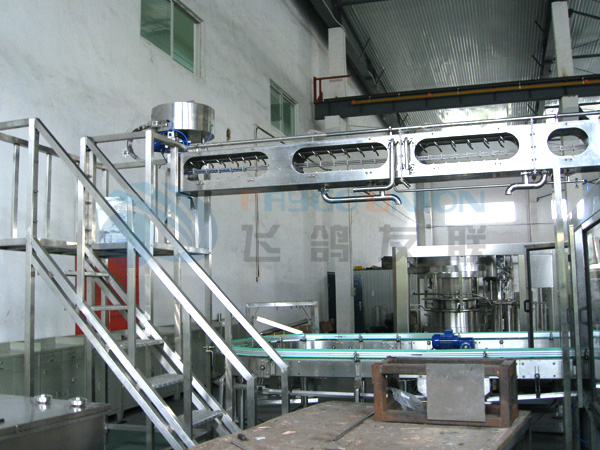 Cap Sterilizer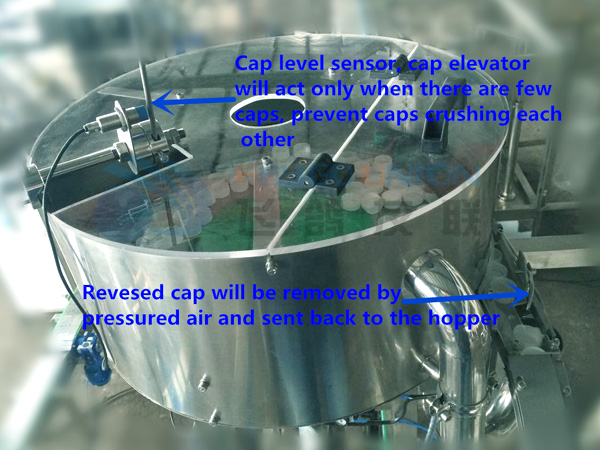 Cap Unscrambler
Smooth and Stable Running Platform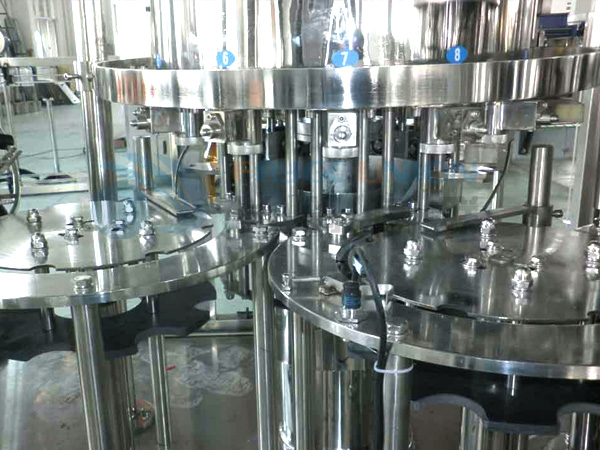 Stainless Steel Star Wheel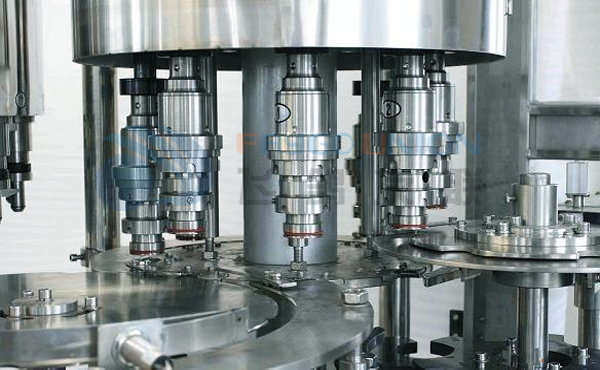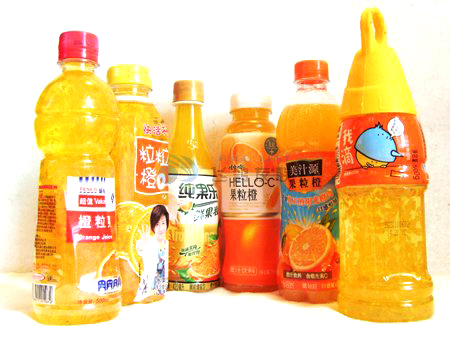 Packaging a Better Life With You