PP melt blown cloth production line is mainly used for making melt blown cloth, which is widely used as mask filtering materials, insulation filling materials, medical materials and son on.
To make qualified melt blown cloth, the whole melt blown production line should include: material feeder, single screw extruder, hydraulic screen changer, metering pump, T die, forming machine, electrostatic device, split device, winder, air compressor, air heating system. The working principle of this equipment as blow:
Auto feeder feeds polypropylene into extruder - pp materials are melt and push outer by extruder - heated air blow melted polypropylene materials through the nozzle T die (with hundreds of small holes in the mold), and threaded materials arrive at the Receiving table and become cloth - split meltblown cloth into several pieces with certain width - wind melt blown cloth into roll.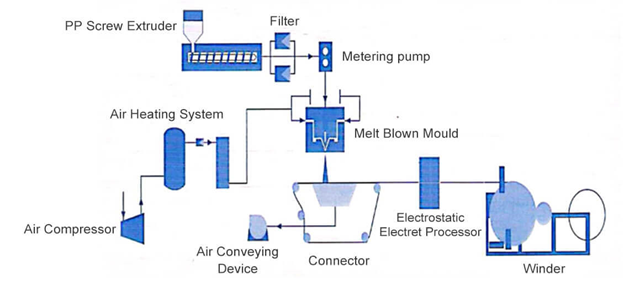 | | | | |
| --- | --- | --- | --- |
| Model | FGB600 | FGB1200 | FGB1600 |
| Available width: | 600mm | 1200mm | 1600mm |
| Extruder | SJ55 | SJ75 | SJ90 |
| Availbale Raw Material: | Polypropylene | Polypropylene | Polypropylene |
| Fiber diameter: | 2-5μm (micrometer) | 2-5μm (micrometer) | 2-5μm (micrometer) |
| Porducts GSM : | 15GSM-80GSM | 15GSM-80GSM | 15GSM-80GSM |
| Production line speed : | 1~30m/min | 1~30m/min | 1~30m/min |
| Max.Capacity : | 350kg / day | 600/ day | 1200kg / day |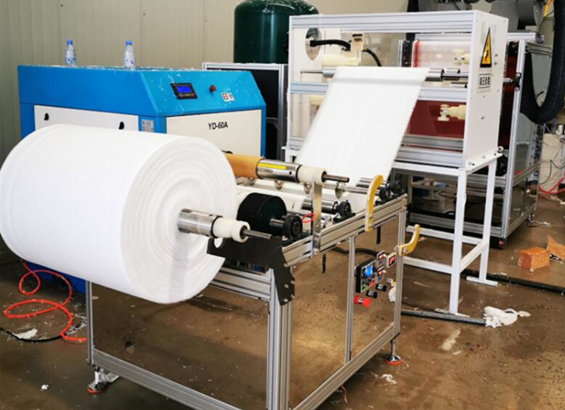 Meltblown cloth material is adhered together by random distribution of polypropylene ultrafine fibers.The material fiber fineness is 0.5-1.0μm. The random distribution of fibers provides more thermal bonding between fibers. The melt-blown air filter material has a larger specific surface area and a higher porosity. After high-pressure electret filtration efficiency, the product has the characteristics of low resistance, high efficiency, and high dust holding capacity. It can be used in the fields of air, liquid filter materials, insulation materials, mask materials, thermal insulation materials etc.